ORGANIZED BY:
NSS-STUDENT CHAPTER OF RCC INSTITUTE OF INFORMATION TECHNOLOGY
Canal South Road, Beliaghata, Kolkata – 700015,
West Bengal, INDIA
Details of the programme:
Date: 27th February, 2023
Time: 3:30pm- 4:30pm
Venue: RCCIIT campus
Attending faculty members:
1) Dr. Sangita Agarwal
2) Dr. Tathagata Deb
Attending students:
1) Oindrila Sarkar
2) Aniruddha Pal
3) Soumyadip Chakraborty
4) Ankush Bera
5) Agneeja Das
6) Purbasha Halder
7) Sushenjit Das
8) Rahul Garai
9) Abhijit Chaudhuri
10) Sarthik Dasgupta
11) Soumya Chakraborty
12) Titash Majumder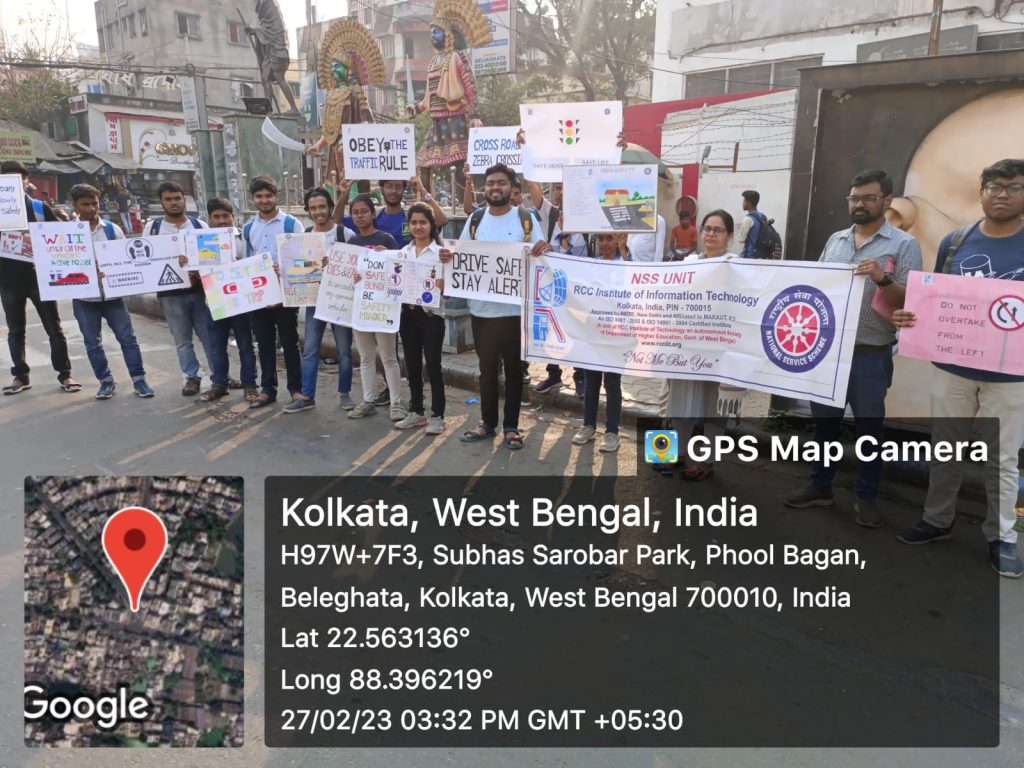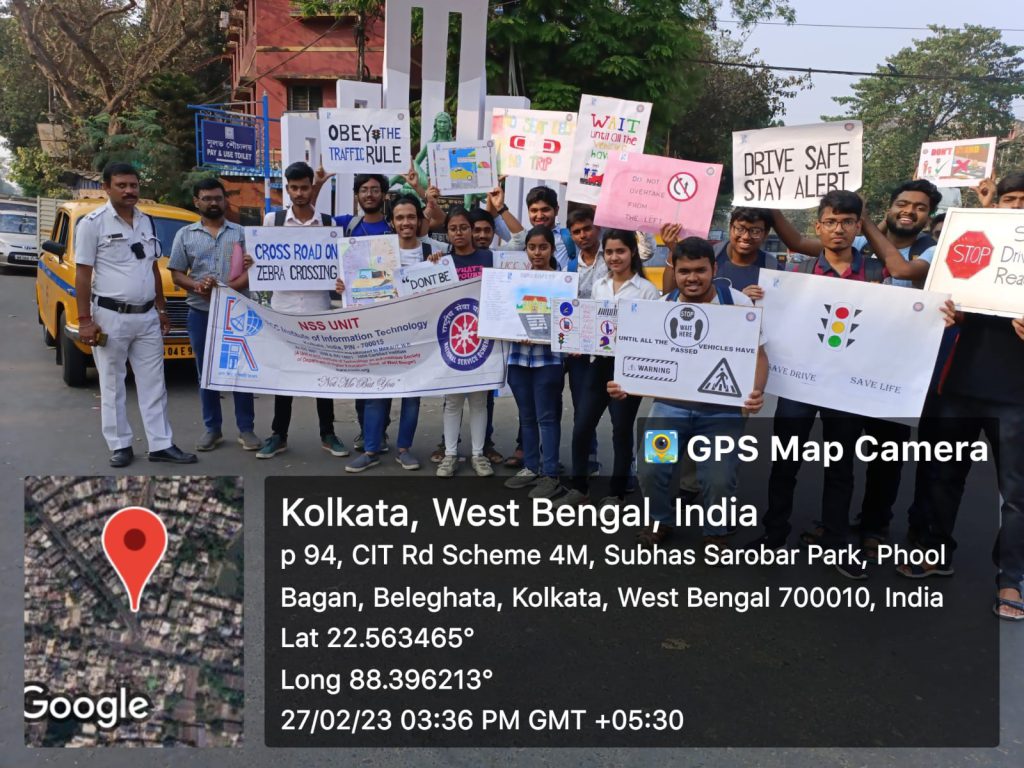 Event Abstract:
"Road Safety Awareness Programme" is an initiative that aims to promote safe behaviors on the roads and reduce the number of road accidents and fatalities. The program can take various forms, public campaigns, rallies, and training programs. These activities aim to educate people about the importance of wearing seat belts and helmets, following traffic rules, avoiding drunk driving, and being mindful of pedestrians and cyclists. The road safety awareness program aims to create a culture of safe driving, walking, and cycling and promote safer roads for everyone.
Overall outcome of the programme:
The Programme was organised by NSS Club of RCCIIT to educate people about the importance of following traffic rules and safety measures while on the road. The event began with students making posters on various road safety rules and regulations, which highlighted the need to obey traffic signals, wear helmets and seat belts, and not indulge in rash driving. They also emphasized the significance of maintaining a safe distance from other vehicles and not using mobile phones while driving. The programme was well received by the students and teachers alike and also helped students understand the role they can play in preventing accidents by being responsible road users. In conclusion, this programme was an informative and engaging event that highlighted the significance of road safety. Such programmes are very significant to promote safe driving habits and reduce the number of road accidents.