ORGANIZED BY:
NSS-STUDENT CHAPTER OF RCC INSTITUTE OF INFORMATION TECHNOLOGY
Canal South Road, Beliaghata, Kolkata – 700015,
West Bengal, INDIA
Details of the programme:
Date: 16th September 2022
Time: 1:00 PM onwards
Venue: RCCIIT Software laboratory
Attending Faculty Members:
Dr. Sangita Agarwal
Monika Sur
Naiwrita Dey
Manaranjan Jana
Attending Members:
Md Hasanuj Jamal Hossain
Saurav Singh
Suryasnata Saha
Nishant Thakur
Md Saood Khan
Akash Das
Samadrita Nag
Souvik Panda
Ayshree Naskar
Isha Bhattacharya
Tanishka Dey
Ananya Sarkar
Akash Karmakar
Kushal Manna
Sarban Kumar Shaw
Anirban Pal
Anustup Dutta
Tahir Imam
Biswasar Prajapati
Binit Kumar Sen
Deepak Kumar
Deepanshu Deep
Giridhar Gopal Gupta
Aarti Kumari
Harsh Jaiswal
Swastika Bose
Ayana Dasgupta
Arghya Dutta
Mayank Kumar
Abhishek Mishra
EVENT ABSTRACT:
World Ozone Day 2022 is celebrated every year globally on September 16 to initiate conversation and spread awareness on the depletion of the Ozone layer. Every year World Ozone Day theme is also announced by the United Nations focusing on the immediate actions that must be taken by the people as well as the governments. Ozone is a protective layer in the Earth's atmosphere that absorbs most of the ultraviolet radiation that reaches the Earth from the sun. The theme for the year 2022 is "Montreal Protocol: global cooperation protecting life on earth".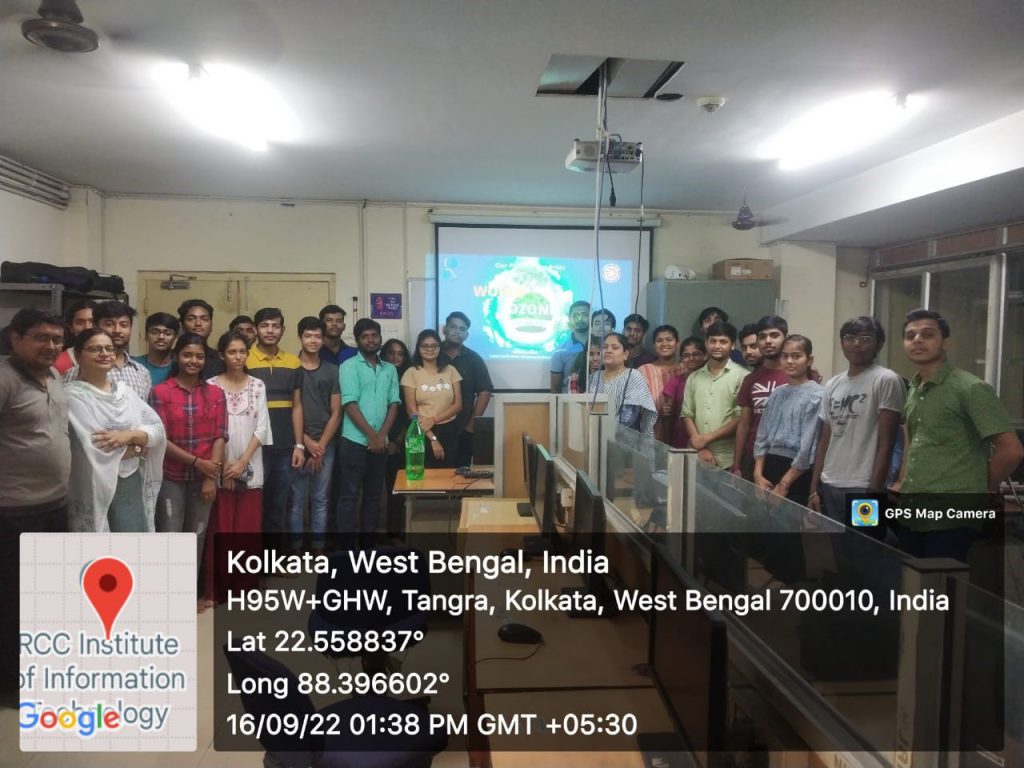 Overall layout of the event:
The event started with an alarming speech by our respected teacher Dr Sangita Agarwal. Followed by another impactful speech by Md Hasanuj Jaman Hossain. To light upon new ideas regarding several ways to prevent ozone layer depletion an active extempore session was organized where following students have participated:
1) Suryasnata Saha
2) Tahir Imam
3) Binit Kumar Sen
4) Swastika Bose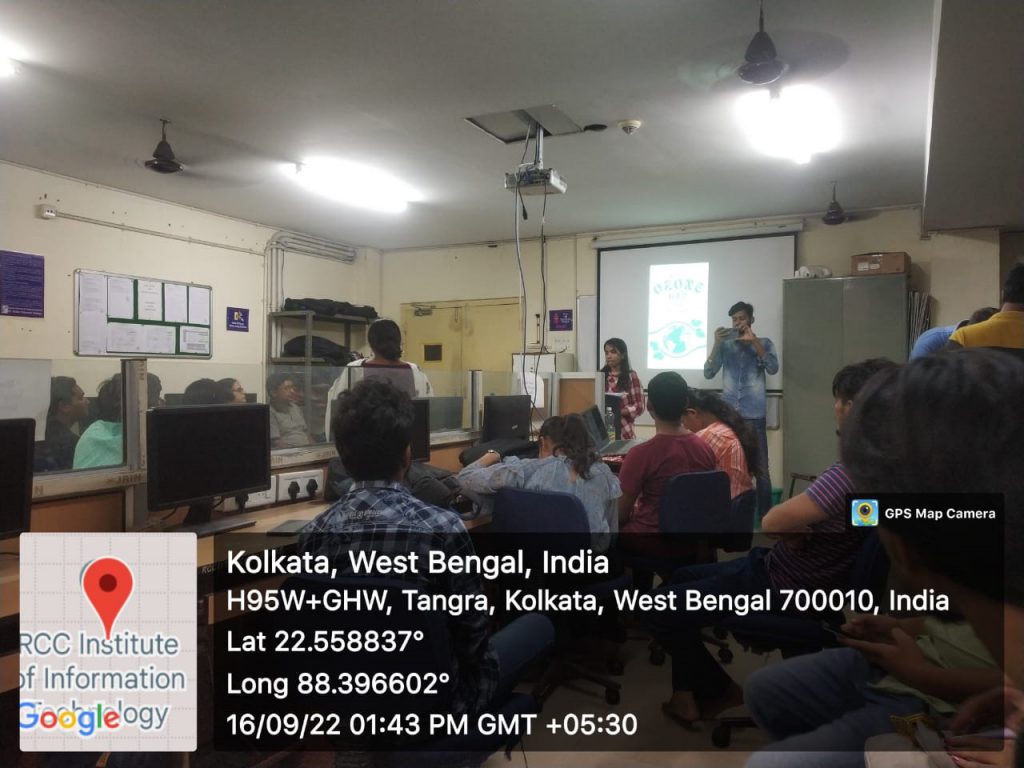 The event ended with displaying of hand-made posters crafted by the students of RCCIIT and with the promise of implementing all the knowledge that has been gathered in the event to save our mother EARTH.
Outcome of the event:
Through this event the idea to safeguard the ozone layer by controlling total global production was put forward with the hope of conserving the God's gift – THE OZONE LAYER.
"The Supreme God made Oxygen and Ozone, He will protect you, just know Him" – Saint Rampal Ji