Organized by:

NSS-STUDENT CHAPTER OF RCC INSTITUTE OF INFORMATION TECHNOLOGY
Canal South Road, Beliaghata, Kolkata – 700015,
West Bengal, INDIA
Objective of the Celebration:
The main objective of the event is to find the health status of he children aged 1 to 10 years and to measure their height and weight and accordingly calculate the BMI. Over this they are being graded on the scale of obese , healthy and underweight.
Meeting Attendees:-
Mr. Anirban Mukherjee ( Principal Officiating RCCIIT)
Mr. Sandip Saha (Register RCCIIT)
Dr. Tathagata Deb (NSS P.O.)
Dr. Sangita Agarwal (NSS Student Chapter Faculty Coordinator)
Mrs. Pragati Sengupta (Junior Asst. AEIE)
Mr. Avijit Das (Asst. Prof. IT)
Mr. Arup Kumar Bhattarcharya (Asst. Prof. CSE)
Mrs. Naiwrita Dey ( Asst. Prof. ECE)
Mrs. Monica Singh (Asst. Prof.
Member of NSS Student Chapter:- 27
No. of Boys:- 20
No. of Girls:- 07
Venue:- College Auditorium and Language Lab
Time:- 11:00 a.m.
Details of the event:-
Date:- 4th April, 2022
Overall layout of the event:-
Our respected principal sir and register sir inaugurated the day's event and had given a speech on the importance of proper nutrition in children. The children of the locality came up with their mothers to join the event and get their height and weight checked.
Dr. Tathagata Deb and Dr. Sangita Agarwal interacted with the mothers present out their about the value of nutrition in the baby's growth and well – being and made it clear that they cannot get nutrition from all sorts of junk food like maggie , chips , cold drinks etc. instead of that proper home made food is required for their nutrition. Dr. Sangita Agarwal also added to it that instead of cerelac they should give them sooji be it sweet or salty and also try some home made things rather than packed food. Dr. Tathagata Deb also focussed on a fact that child above 1 years of age they should be given a banana in their diet everyday as it is highly nutritious for them.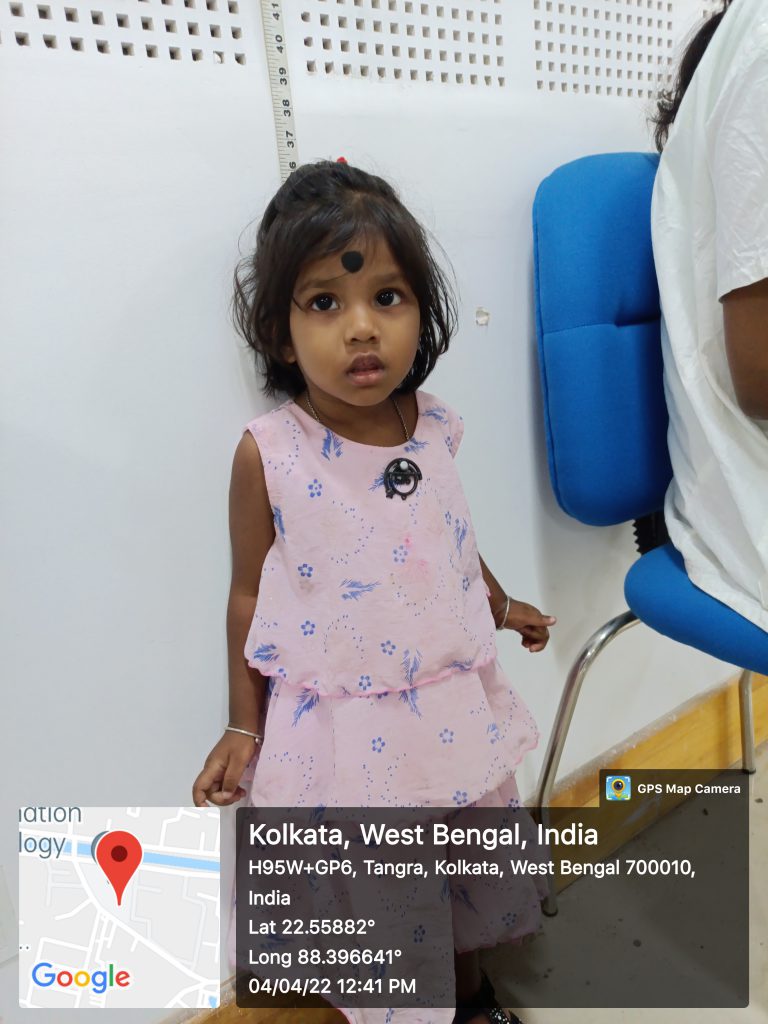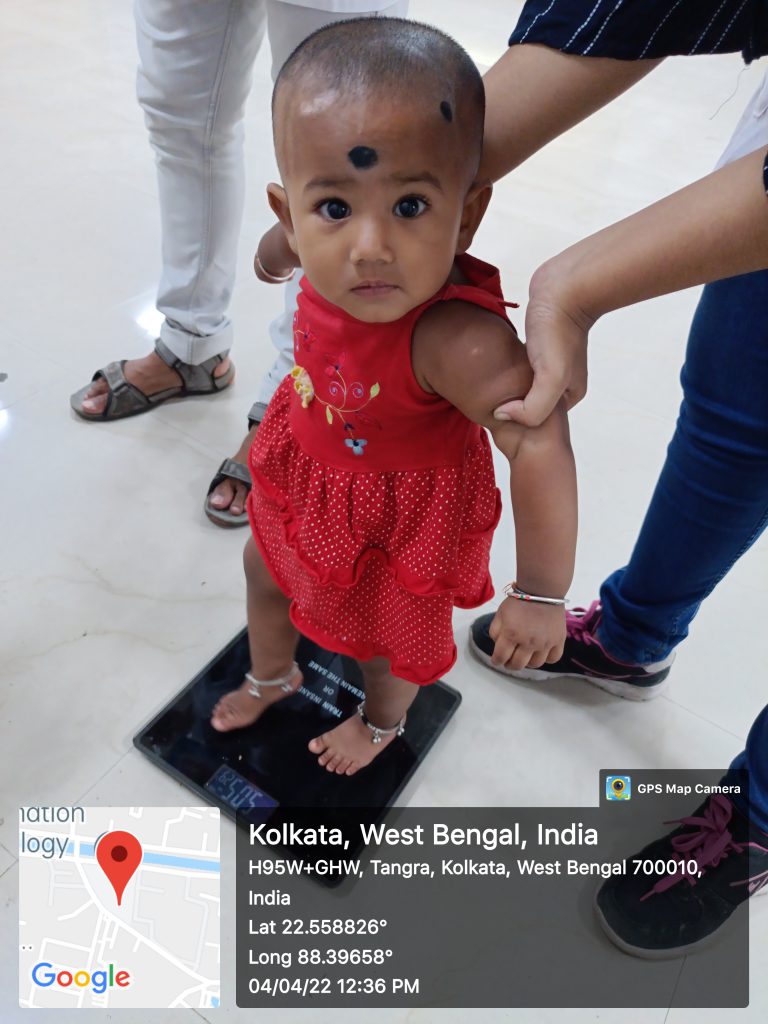 Dr. Sangita Agarwal and Mrs. Monica Singh coordinated the day's event beautifully. After the check up food packets were given to the children.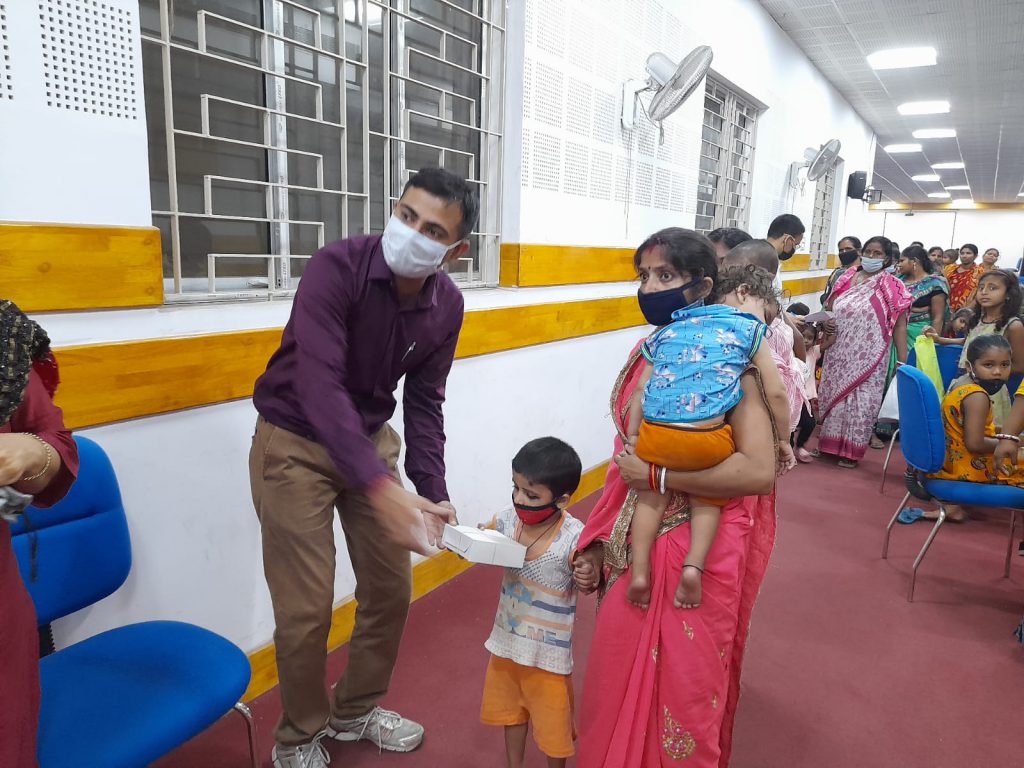 Report of the check up:-
No. of Children:- 88
No. of boys:- 14
No. of girls:- 74
Average age group of the children present:- 3 to 9 years
Average BMI of the children:-
Children having BMI of above 24.9 which is termed as obese:- 05
Children having BMI within 18.5 to 24.9 which is termed as healthy:- 25
Children having BMI less than 18.5 which is termed as under weight:- 36
Outcome of the event:–
Awareness created among local people regarding nutritional and home made food for the betterment of their child growth.