Organized by:
NSS-STUDENT CHAPTER OF RCC INSTITUTE OF INFORMATION TECHNOLOGY
Canal South Road, Beliaghata, Kolkata – 700015,
West Bengal, INDIA
Meeting Attendees:-
Faculty Members: Dr. Tathagata Deb, Dr. Sangita Agarwal.
NSS Core Team: Sourav Chakraborty, Ishani Paul, Prerana Dhar, Ishita Ghosh, Cris Roy, Sourav Das, Suryasnata Saha, Shagnik Mukherjee, Ronit Roy.
50 students from NSS team were involved into this program.
There were 80 students who participated into this program to make a success of this program.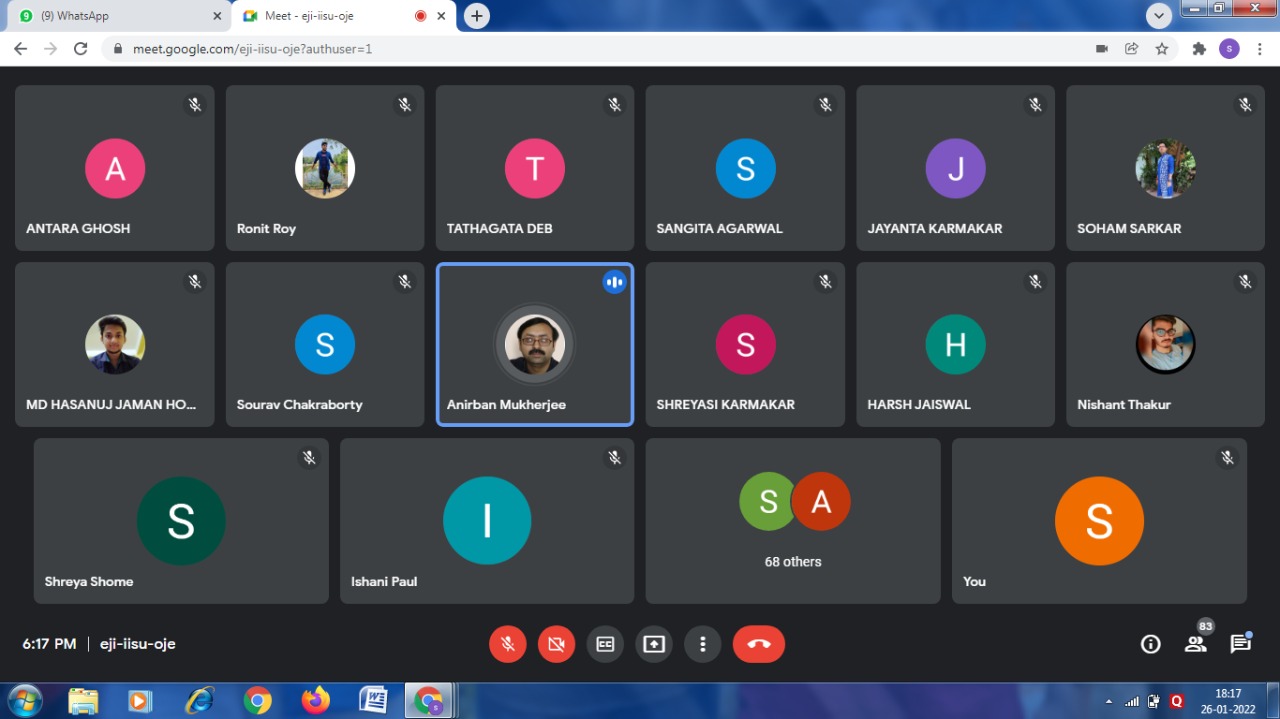 Venue:- Gmeet
Time:- 6 p.m.
Details of Program:-
Date:- 26th January, 2022
Objective of the celebration:-
Republic Day is a public holiday in India, when the country marks and celebrates the date on which the Constitution of India came into effect on 26 January 1950, replacing the Government of India Act 1935 as the governing document of India and thus, turning the nation into a newly formed republic.[1] The day also marks the transition of India from an autonomous Commonwealth realm with British Monarch as nominal head of the Indian Dominion, to a fully sovereign republic in the Commonwealth of Nations with the President of India as the nominal head of the Indian Union.
The Constitution was adopted by the Indian Constituent Assembly on 26 November 1949 and came into effect on 26 January 1950 with a democratic government system, completing the country's transition towards becoming an independent republic. 26 January was chosen as the date for Republic day because it was on this day in 1930 when the Declaration of Indian Independence (Purna Swaraj) was proclaimed by the Indian National Congress in lieu of the Realm status as a Dominion later instated by the departing British Regime.
Details of this Event:
It is our honour to organise such an event on such a memorable day. This event reached it's success with everyone's cooperation. Our speaker Anwesha Basu ma'am along with our faculty members Dr. Tathagata Deb sir and Dr. Sangita Agarwal ma'am who did small but meaningful introduction about Republic Day.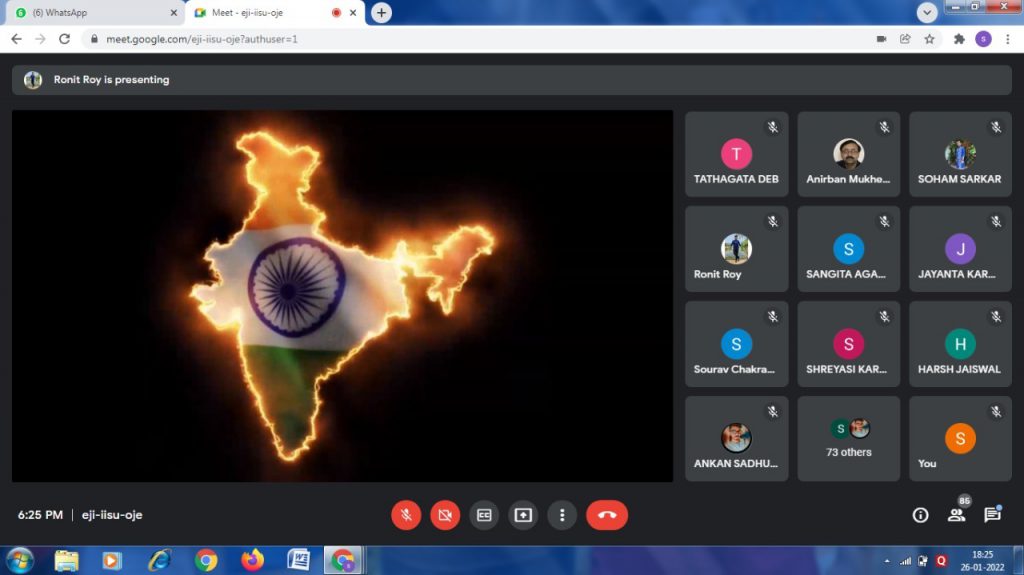 Along with our respected teachers our principal Prof. (Dr.) Anirban Mukherjee sir gave his valuable speech regarding Republic Day.
After our respected teachers it was time for our NSS team coordinators and organizers to take over the event. Sourav Chakraborty and Ishani Paul as the speaker of the cultural event and Ronit Roy as the screen representer. They started their introduction with their beautiful speech on Republic Day along with a beautiful video.
After our small introduction we dove into our cultural program. Each segment was divided into singing, dancing, poetry and small speeches.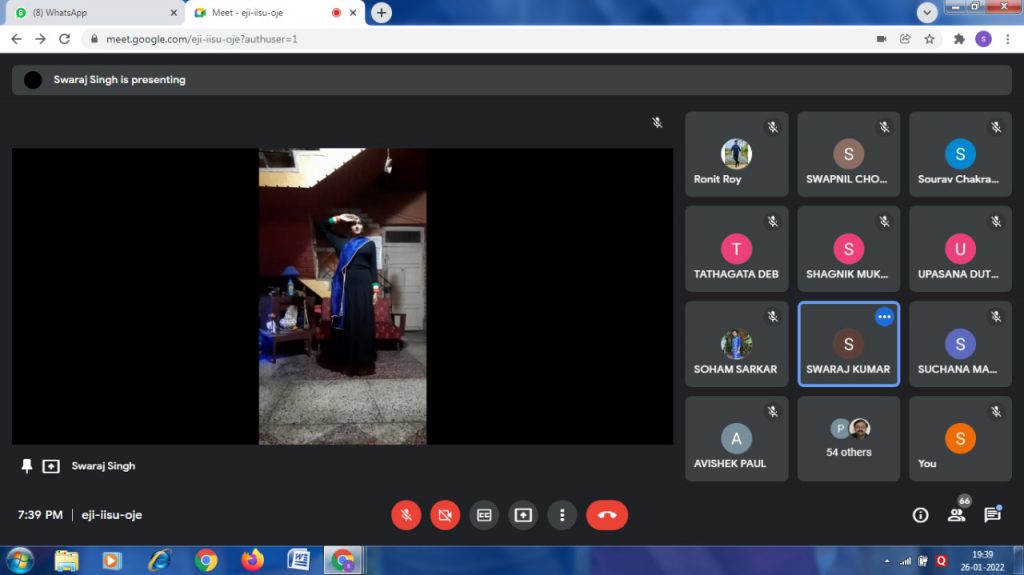 1st Speech by our respected Principal sir Mr. Anirban Mukherjee
2nd Speech by respected NSS Programming Officer Dr. Sangita Agarwal
3rd Speech by respected NSS Programming Officer Dr. Tathagata Deb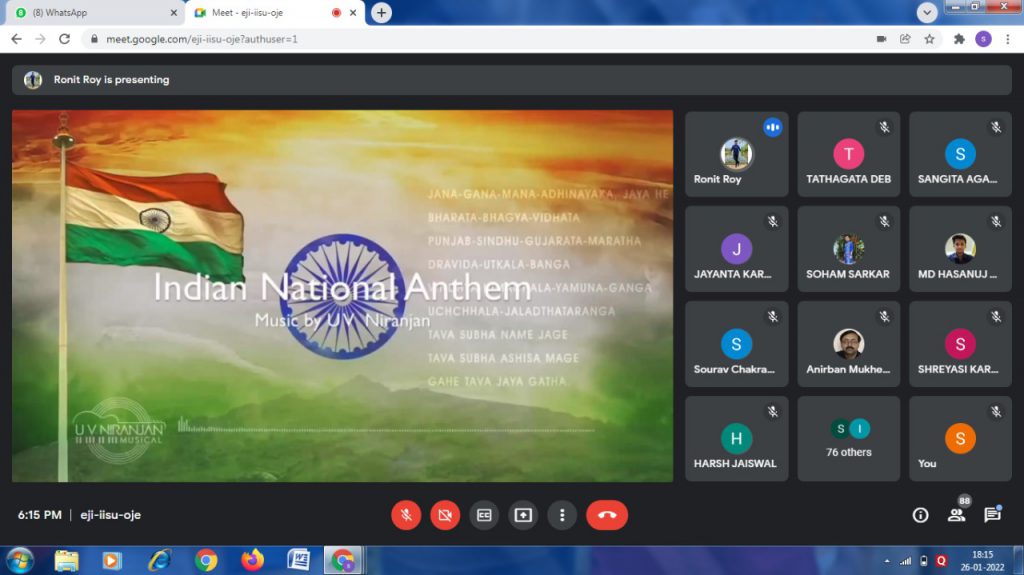 Followed by the speeches National Anthem is presented by Ronit Roy and every attendees are on their feet for our glorious anthem "Jana Gana Mana".
Followed by our national anthem there were speeches by NSS Student Member representatives.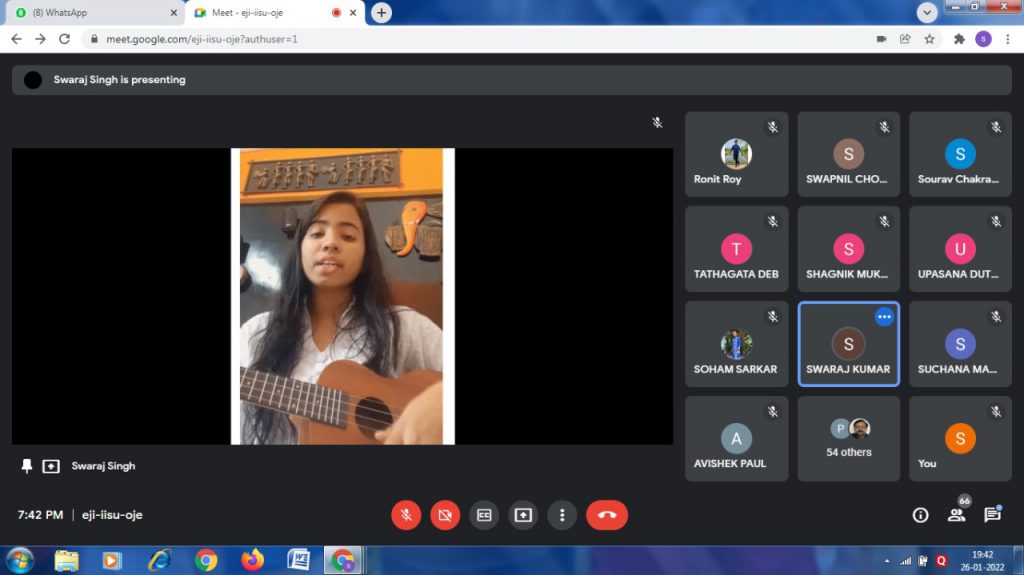 Every-participants did a great effort toward creating their own videos. In singing their vocals was so beautiful everyone including teachers were appreciating their music.
Each segment had dancing too. Every dancer was so graceful and professional it made the event as perfect as it should be.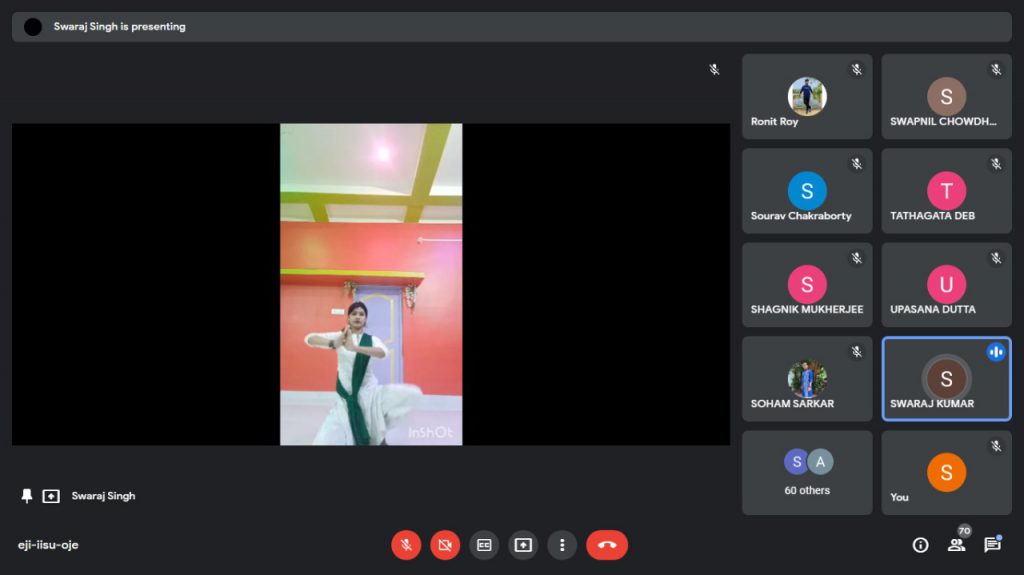 Then if come to our poetry segment that was as wonderful as the other performances. Some poetry was so heart touching and they said so beautifully it was amazing. Few poems were even self-written.
And last but not the least out poster making segment where we had the most no. of participants. Each and every participants was so creative and talented.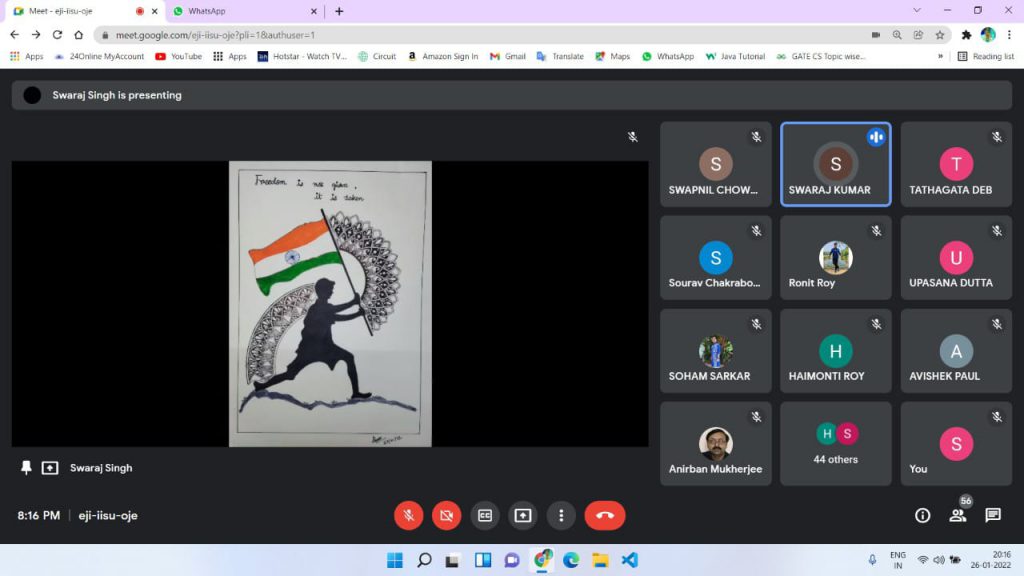 After our last segment it was time to wrap up our event. Sharing a few words our speaker handed the event to teachers to officially end this event with their words.
Video link of the full event:-
https://drive.google.com/file/d/1pl3NkB8Hi3lBIfpUt0CoD-w9Kax2PalQ/view?usp=sharing