Organized by:
NSS-STUDENT CHAPTER OF RCC INSTITUTE OF INFORMATION TECHNOLOGY & RCCTECHZ CLUB -THE OFFICIAL CODING CLUB OF RCCIIT
Canal South Road, Beliaghata, Kolkata – 700015,
West Bengal, INDIA
Meeting Attendees:
College Officials: Mr. Anirban Mukherjee (Principal Officiating RCCIIT), Mr.Sandip Saha (Register RCCIIT).
Faculty Members: Dr. Tathagata Deb, Dr. Sangita Agarwal, Dr. Tiya Dey Malakar,Ms. Jaya Barua (NSS faculty Members)
NSS SC Core Team: Sourav Chakraborty, Ishani Paul, Ishita Ghosh, Subhayan Roy Chowdhury, Prerana Dhar.
Members of NSS Student Chapter: 35 students
Total Number of meeting attendees: 100
Objective of the celebration:
Today we are jointly celebrating the 73rd Republic Day and 125th birth anniversary of Netaji Subhas Chandra Bose. Whenever we hear the name Subhash Chandra Bose, the first thing that comes in our mind is a popular saying by him, "Give me blood, I will give you freedom". Subhash Chandra Bose was born in Cuttack, Orissa, in 1897. He grew up deeply identifying with the Indian Freedom Movement And subsequently became a part of it in the 1920s.
Overall layout of the event:
Dr. Tathagata Deb, respected sir hosted the event with such energetic and interesting way that it had achieved new heights of success. The starting of the event is marked with our National Anthem presented by Ronit Roy and all attendees are on their feet for our glorious anthem "Jana Gana Mana". Followed by the National Anthem there were welcome speeches:
1st Speech by our respected Principal sir Mr. Anirban Mukherjee.
2nd Speech by respected NSS Programming Officer Dr. Tathagata Deb.
Followed by the speeches there was a patriotic made my various students which perfectly define the objective of the day's celebration.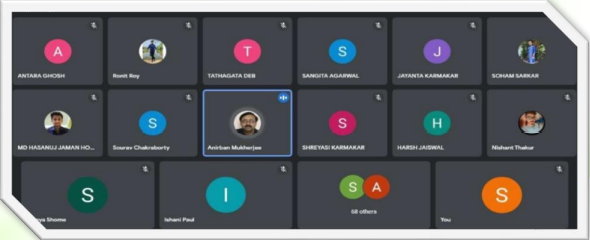 Next there was a speech by our Registrar Sir Mr. Sandip Saha giving his views regarding the
Republic Day.
Followed by that there was a couple of live performances like A mesmerizing song by Pronoy Debnath of IT department, A beautiful recitation presented by Suchana Majumdar of MCA department, another beautiful recitation presented by Divya Sakshi of IT department A beautiful song by Swapnil Chowdhury of ECE department. Followed by the live performances there was a speech by Mr. Avishek Paul, next there were couple of segments of dance, song, recitation, photography, drawings and posters.

In the first segment there was some amazing dance performances where Debasmita Jana performed on the song Maa tujhe salam, Shreyashi Karmakar performed on the song Teri Mitti, Sakshi Arya performed on the song Desh Rangila, Arita Chakrabarti performed on thesong Ae WatanIn the second segment we had some mesmerizing patriotic songs where Suryasnata Saha sung the song Ae Watan, Fahim Imran sung the song Mere Bharat ki Beti, Moumita Maitysung the song Maa Go Bhabna Kano, Alik Bhattarcharya sung the song Ae Watan.
In the third segment we have recitation of some amazing poems by Suchana Majumdar, Upasana Dutta, Archisman Ghosh, Abhisikta Saha. In the next segment we have some classic photography presented by Joydeb Das, EshitaRoy, Swastik Roy, Nabarun Das, Shivam Thakur, Jayant Karmakar, Ayashree Naskar, Rahan Ghosh. In the last segment we have drawings and posters presented by Suchanda Majumdar, SohamSaha, Harsh Jaiswal, Payal Adak, Ranit Das, Ayan Das, Riya Priya, Subha Kayal, Swastika Bose, Arti Kumari, Abir Paul, Anwesha Sutar, Eashani Das, Haimonti Roy, Arna
Paul, Artim Ghosh.
Along with the above mentioned segments we have two special performances:-
1:- A self made patriotic video of Netaji Subhas Chandra Bose by Prerana Dhar of MCA department.
2:- A song beautifully played on Guitar by Samadrita Nag of ECE department.
Followed by those segments there was a live performance by Subhayan Roy Choudhury of CSE department just kept everyone mesmezired through his wonderful voice and sung the song Teri Mitti.
Then was a wonderful video presented where students read out the Preamble of the Indian Constitution.
Lastly the ending of this beautiful event is marked by the vote of thanks by our respected NSS Programming Officer Dr, Tathagata Deb. The presentation of the event is done by Ronit Roy and Swaraj kumar who handled the full process wonderfully.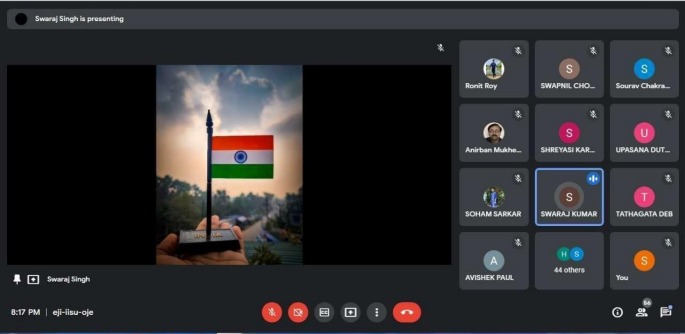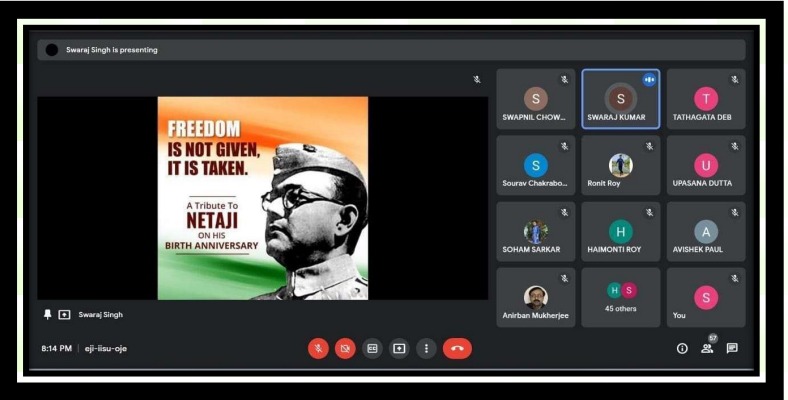 Outcome of the Event:
The event is set up to commemorate the day on which our own Constitution came into effect which means total freedom from British rule. The day Indian government can lead the country in their own way. Adding to that we always keep remembering our one of the best leaders of the freedom struggle Netaji and try to follow his paths in every sphere of life possible.