Organized by:
NSS-STUDENT CHAPTER OF RCC INSTITUTE OF INFORMATION TECHNOLOGY
Canal South Road, Beliaghata, Kolkata – 700015,
West Bengal, INDIA
Meeting Attendees:-
Faculty Members: Dr. Tathagata Deb, Dr. Sangita Agarwal.
NSS Core Team: Sourav Chakraborty, Ishani Paul, Prerana Dhar, Ishita Ghosh, Cris Roy, Sourav Das, Suryasnata Saha, Shagnik Mukherjee, Ronit Roy.
35 students from NSS team were involved into this program.
There were 60 students who participated into this program to make a success of this program.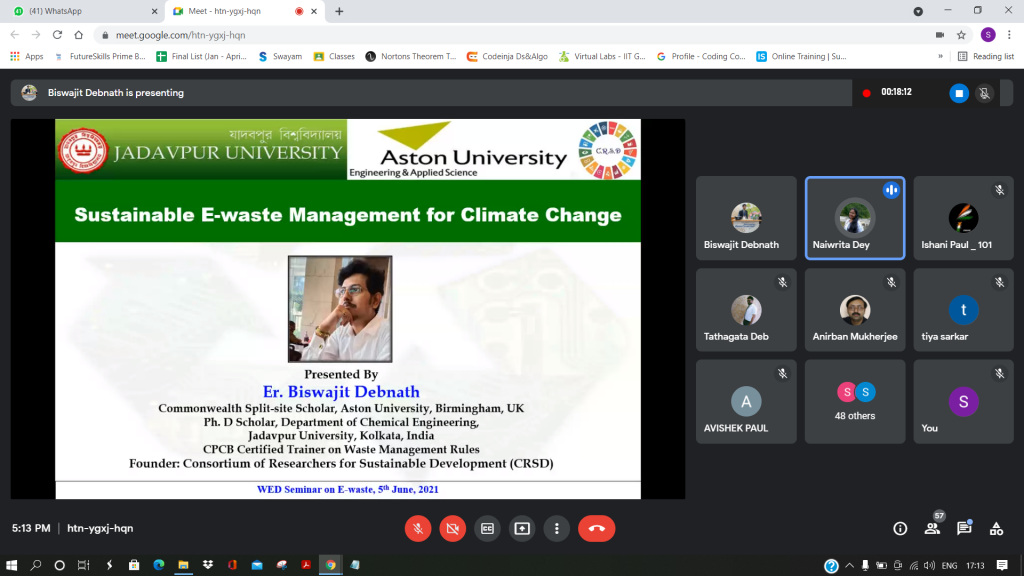 Details of Program:-
Venue:- Gmeet
Time:- 5 p.m.
Date:- 5th June, 2021
Objective of the celebration:-
World Environment Day (WED) is celebrated annually on 5 June and is the United Nations principal vehicle for encouraging awareness and action for the protection of the environment. First held in 1974, it has been a platform for raising awareness on environmental issue such as marine pollution, human overpopulation, global warming, sustainable consumption and wildlife crime. World Environment Day is a global platform for public outreach, with participation from over 143 countries annually. Each year, the program has provided a theme and forum for businesses, non government organizations, communities, governments and celebrities to advocate environmental causes.
Details of this Event:
It is our honour to organise such an event on such a memorable day. This event reached it's success with everyone's cooperation. Our speaker Anwesha Basu ma'am along with our faculty members Dr. Tathagata Deb sir and Dr. Sangita Agarwal ma'am who did small but meaningful introduction about Republic Day.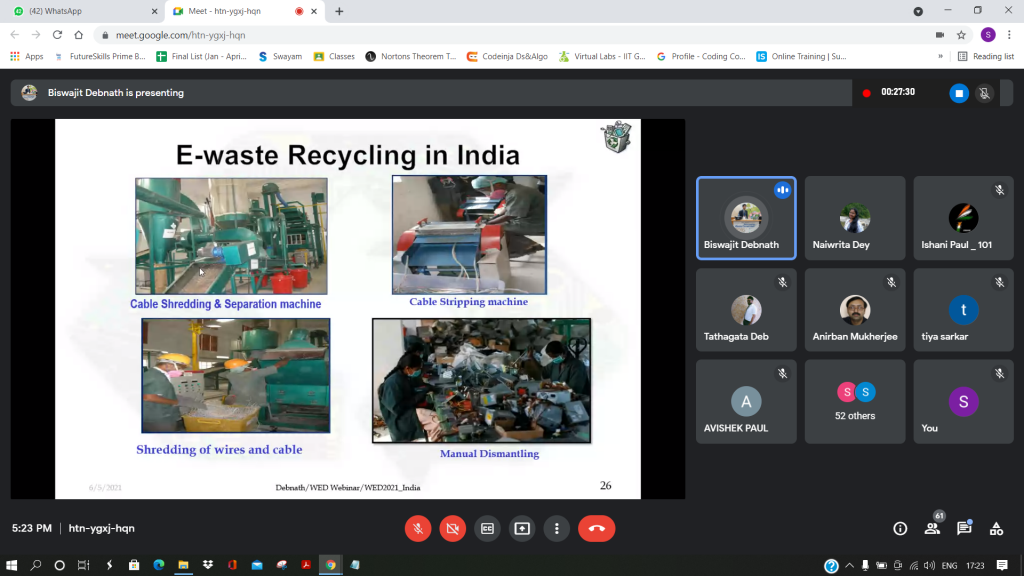 Along with our respected teachers our principal Prof. (Dr.) Anirban Mukherjee sir gave his valuable speech regarding World Environment Day.
1st Speech by our respected Principal sir Mr. Anirban Mukherjee
2nd Speech by respected NSS Programming Officer Dr. Sangita Agarwal
3rd Speech by respected NSS Programming Officer Dr. Tathagata Deb
4th Speech by respected NSS Programming Officer Dr. Naiwrita Dey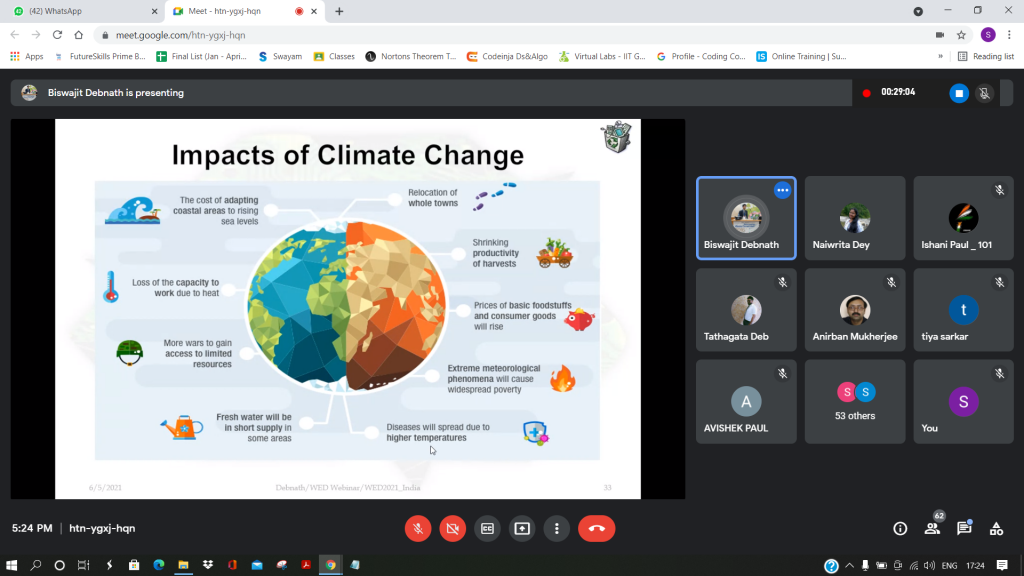 Followed by the speeches of our respected Principal sir and other NSS faculty members there was a presentation given by Dr. Biswajit Debnath along with some speech.
Then if we come to our poster making segment where we had the most no. of participants. Each and every participants was so creative and talented.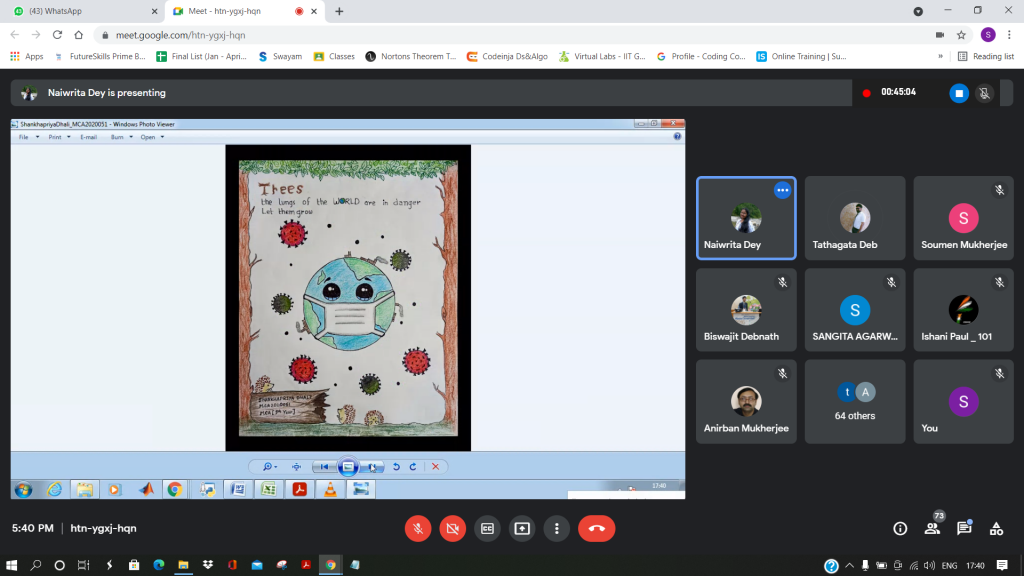 After our last segment it was time to wrap up our event. Sharing a few words our speaker handed the event to teachers to officially end this event with their words.
Outcome of the event:-
World Environment Day is observed on June 5, every year. It is celebrated to spread awareness among peop and search for possible solutions to prevent it.
Video link of the full event:-
https://drive.google.com/drive/folders/1oIshAGVwjNI2aGDuqnKXzZkLZSO4zHnF?usp=sharing