Organized by:-
COMPUTER SOCIETY OF INDIA, KOLKATA CHAPTER
BHOWANIPUR EDUCATION SOCIETY, ELGIN ROAD, SREEPALLY BHOWANIPUR
Kolkata-700020
Objective of the Celebration:-
'ONLY ONE EARTH' – With the theme of living sustainably in harmony with nature this year NSS-Student Chapter of RCC Institute of Information Technology celebrated "WORLD ENVIRONMENT DAY" in association with COMPUTER SOCIETY OF INDIA,KOLKATA CHAPTER along with THE SCIENCE ASSOCIATION OF BENGAL with a seminar on "GREEN IT-GREEN ENVIRONMENT".
Every year on 5th June WORLD ENVIRONMENT DAY is celebrated to make people aware of the detoriating condition of our very own mother Earth. This day acts as a reminder to people to be more considerate and aware of the Earth's existing conditions, in terms of the environment. Unfortunately as our society modernises, our environment gets affected due to the adoption of technologies and resources that are quite harmful to the environment.
The concept of celebrating World Environment Day was first conceptualised in 1972's United Nations Conference on Human Environment that was held in Stockholm. This became the first big conference where matters of the environment were given huge importance. The United Nations Environment Programme was also created at this conference. Every year, a theme is picked out for World Environment Day that encourages people to participate in the celebration and also motivates them to follow the theme. Every year, different countries host World Environment Day. This year, Sweden is the host. This year's theme will focus on getting the world together in harmony to advocate the idea of sustainable living.
This year was the year of extreme importance as it marks the completion of 50 years since the first conference i.e. 1972 Stockholm conference was held that initiated the stride towards achieving a better tomorrow for all, in terms of the environment. The Earth faces multiple problems such as climate change, loss of biodiversity, increase in carbon emissions and non-biodegradable wastage. With everyone's help and one step at a time, people can make good choices and work towards sustaining the environment with the best conscious choices.
Meeting Attendees:-
Dr. Tathagata Deb (PROGRAMMING OFFICE NSS UNIT RCCIIT)
Dr. Sangita Agarwal (FACULTY COORDINATOR NSS UNIT RCCIIT)
Md Hasanuj Jaman Hossain, Saurabh Singh, Md Sood Khan (NSS Student Member Representative)
Member of NSS Student Chapter: 22
Venue- CSI KOLKATA CHAPTER OFFICE
Date-5th June, 2022 Time – 11AM
Overall layout of the event:–
HOST: – The event was beautifully hosted by Mr JOYDEEP GHOSH who with such an enthusiastic way made the entire program a real success.
The event was warmly welcomed by Dr Aniruddha Nag, Past Chairman, CSIKC followed by a wonderful yet alarming inaugural speech by Dr Jyoti Sekhar Banerjee, Secretary, CSIKC.
Our Respected Ma'am Dr Sangita Agarwal put forward the idea of GREEN IT through a sublime and interactive presentation, which enlighten us with the idea of Green IT.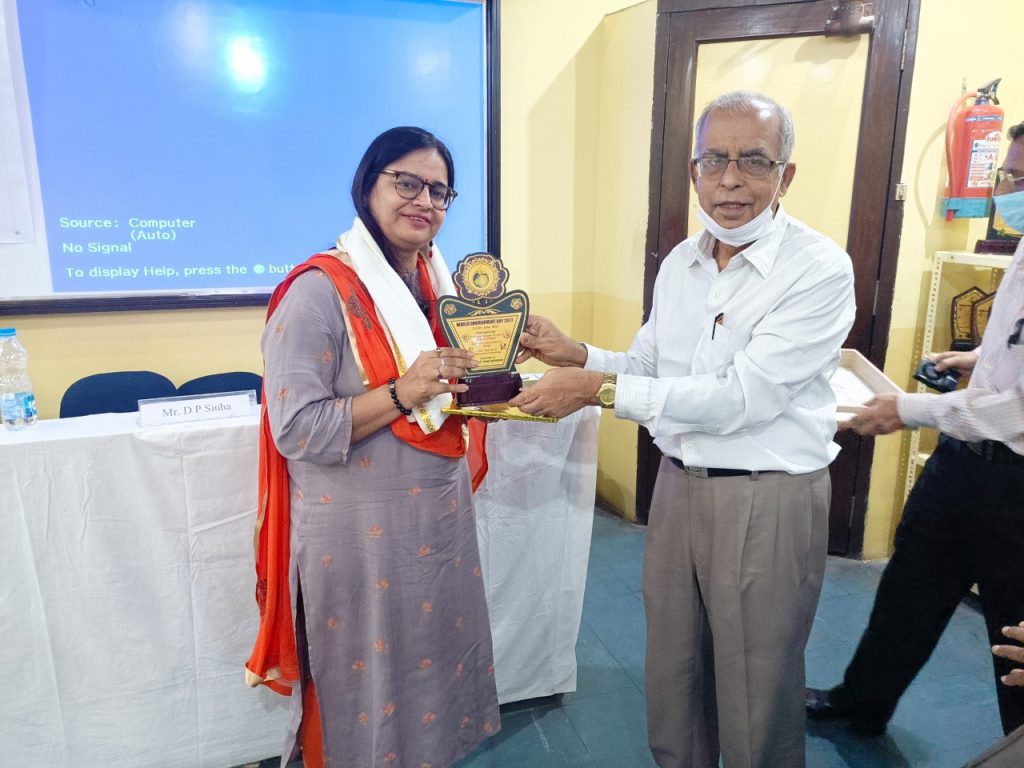 For such a commendable presentation Respected Ma'am Dr Sangita Agarwal was felicitated.
Next up we had two of the really informative and memorable speeches by Dr Parijat Chakraborty (Director,V&PEEMC) and Mr D.P. Sinha (FELLOW, CSI) who showed us where the youth of today stands and what role they play to save the nature.
Special address by Dr S K Nath ,Oncologist, (Ex-CMC) who made such a wonderful connection between cancer,nature and us in an easy and beautiful way that everyone present their was extremely delighted.
The event was followed by an extempore competition which was judged by Dr Tathagata Deb (Associate professor,RCCIIT), Mr Saikat Basu (Executive Member ,SAB), Mr Goutam Hazra (Past Chairman,CSIKC) and Mr Rajat Kanti Chatterjee (Treasurer, CSIKC) where students both from the collage and outside actively participated and shared their point of view on "e-waste" and "Green IT".
Though everyone gave their best but according to the rules it had its winners –
INDRANIL DUTTA (1ST YEAR ECE) – Winner
NASIRUDDIN THANDER (1ST YEAR IT)- 1ST RUNNERS UP
URVI CHAKROBORTY (1st YEAR CSE)- 2ND RUNNERS UP
The prize was distributed by Dr S Choudhuri, Dr Aniruddha Nag and Dr Jyoti Sekhar Banerjee.
Besides them , participants from our collage who deserve special mention are-
ANAMITRA SENGUPTA
SWAGAT SANTRA
PRATIK SHRIVASTAVA
The extempore competition ended up with the powerful speech of respected Sir Dr Tathagata Deb who not only provided us with facts regarding the environment but also shared his personal experiences on this auspicious event.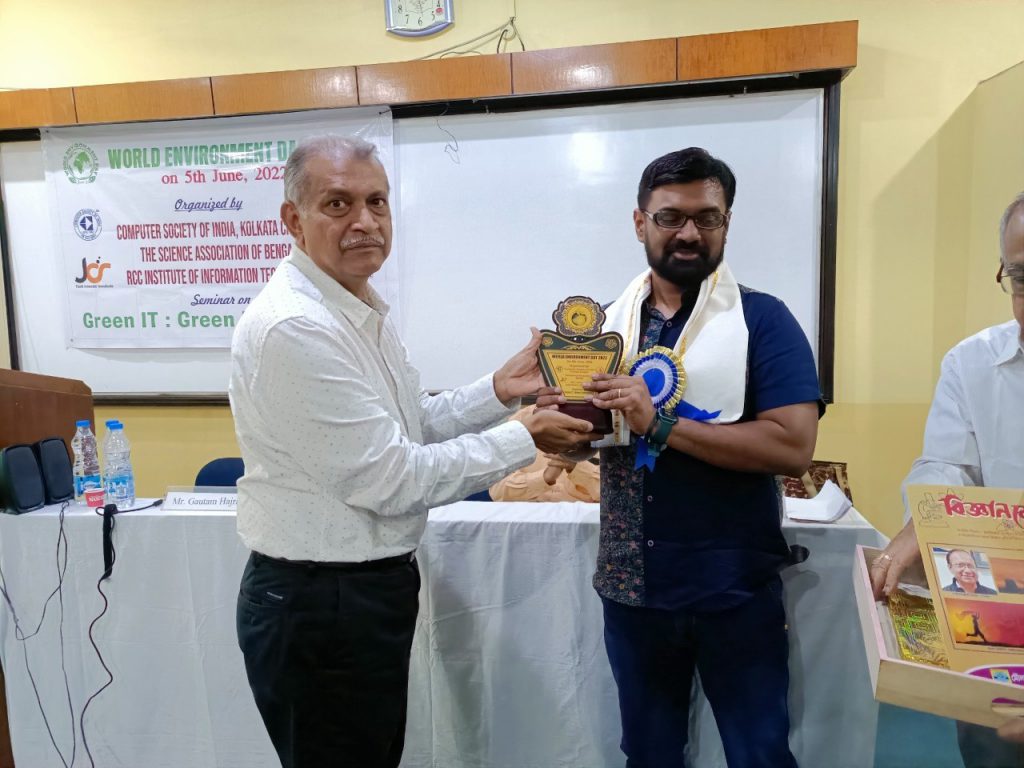 Repected Sir Dr Tathagata Deb was felicitated too for his wonderful works.
For the active participation of the students from the collage CSI had also arranged a felicitation program.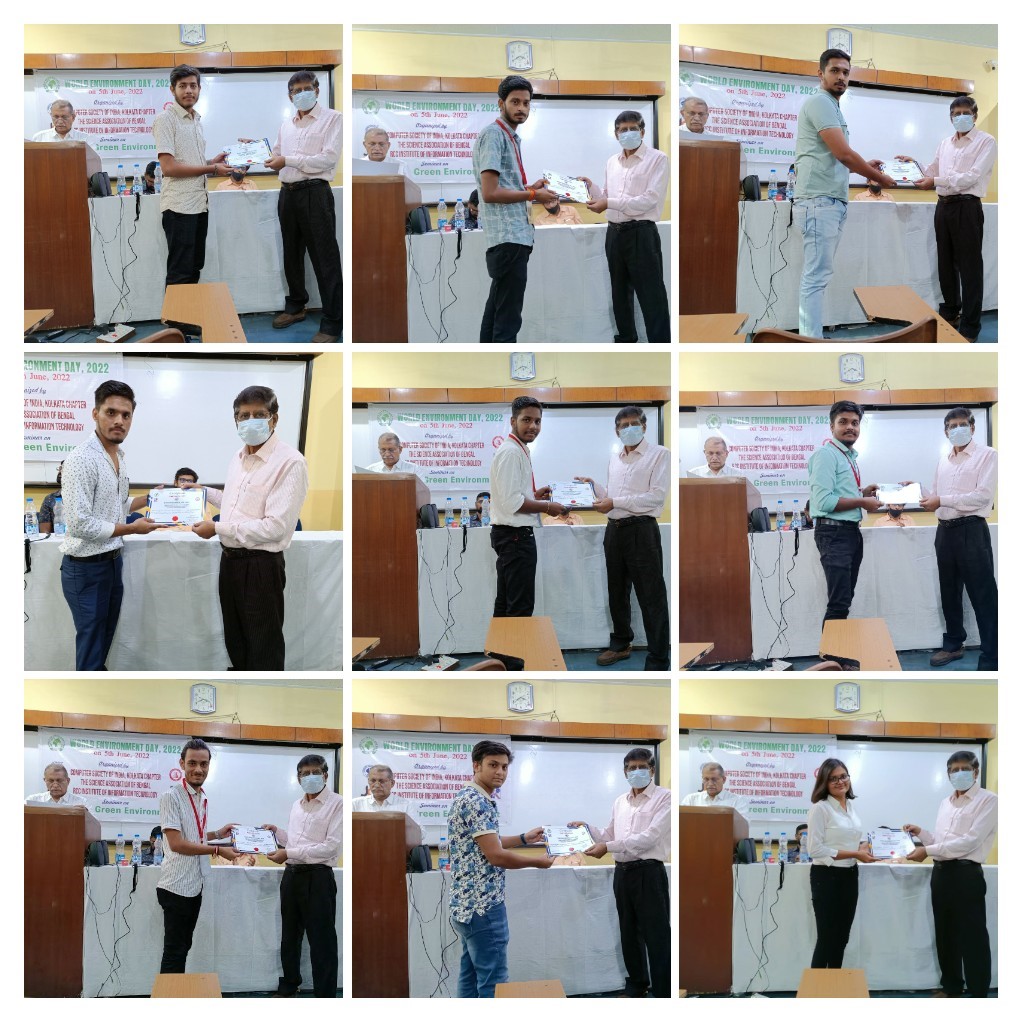 The program ended on a beautiful note of saving the nature is the duty of everyone. Nature has gifted us so much and now it's our turn to the save the earth.
It ended up with the promise of continuing the efforts to save the Earth and implementing what knowledge we have gathered in this event to put forward the best from each one of our side to make the mother Earth BEAUTIFUL.
No. of Attendees- 55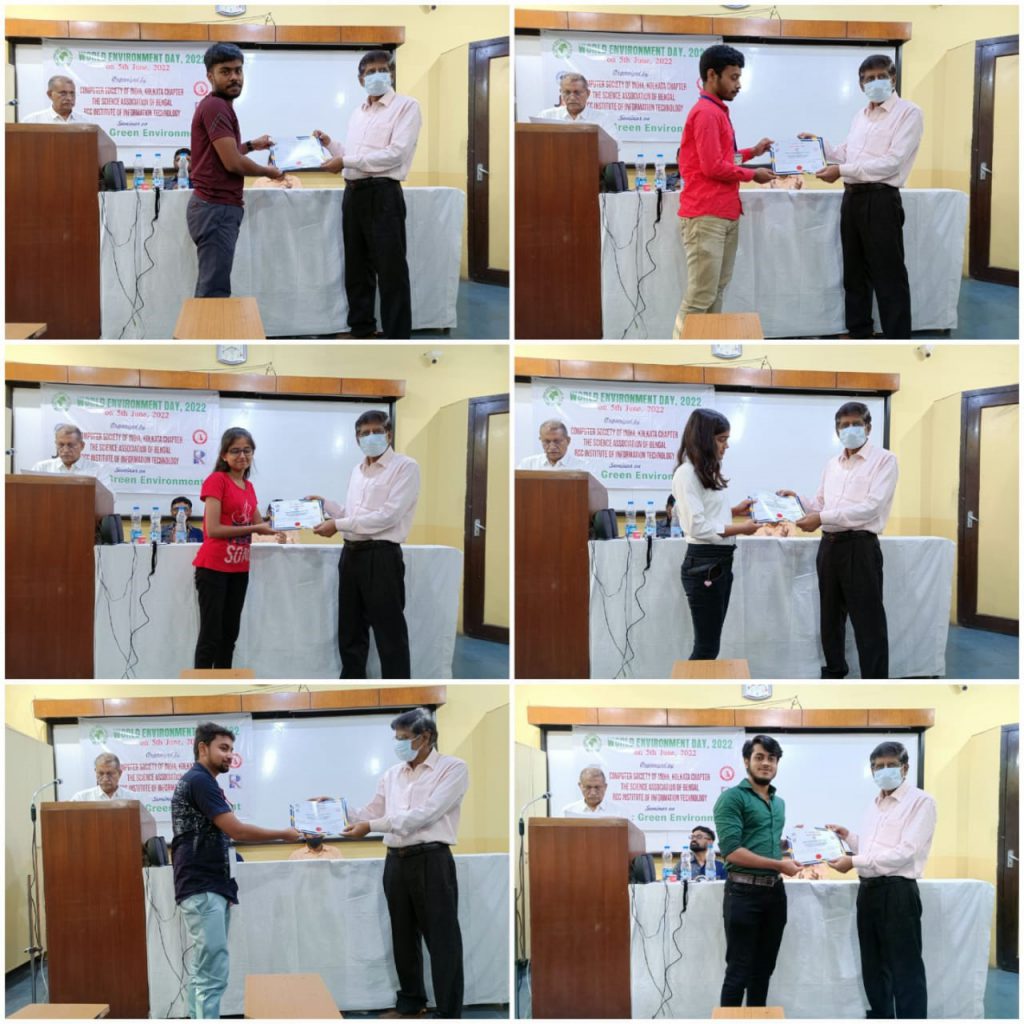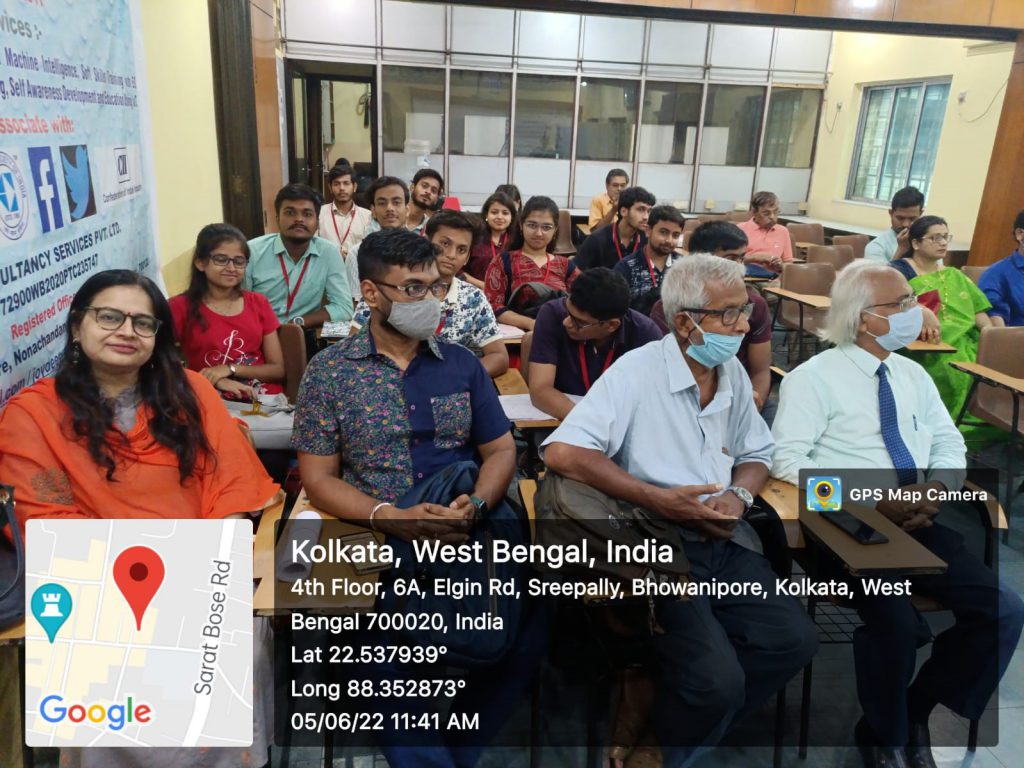 Outcome of the event:-
This event is set up with the motto of providing us with an opportunity to broaden the basis for an enlightened opinion and responsible conduct by individuals, enterprises, and communities in preserving and enhancing the environment. Technology will advance for the betterment of humankind but it should not come with the cost of causing harm to our environment.