NSS-STUDENT CHAPTER OF RCC INSTITUTE OF INFORMATION TECHNOLOGY & RCCTECHZ CLUB -THE OFFICIAL CODING CLUB OF RCCIIT
Canal South Road, Beliaghata, Kolkata – 700015,
West Bengal, INDIA
Date: 5th &6th April,2022
Time: 2 p.m.
Venue: College Auditorium
Objective of the Celebration:
Health is not just about physical well-being but also about the mental and social aspects. A person is said to be healthy if he/she possesses all three. According to the WHO, health is central to human happiness and well-being. It also makes an important contribution to economic progress, as healthy populations live longer and are more productive. Millions of people around the world are prey to many terrible diseases. Therefore, to raise awareness about the overall health and well-being of people across the globe every year it is celebrated.
Attendees:
College Officials: Mr. Anirban Mukherjee (Principal Officiating RCCIIT), Mr. Sandip Saha (Register RCCIIT).
Faculty Members: Dr. Tathagata Deb, Dr. Sangita Agarwal, Mr. Soumen Mukherjee.
NSS SC Core Team Member Representative: Sourav Chakraborty, Md Hasanuj Jaman Hossain, Saurabh Kumar Singh, Soham Sarkar.
Members of NSS Student Chapter: 53
Total No. of Staff and Faculty: 65
Total Number of Attendees: 90
Overall layout of the Event:
Date: 5th April,2022
Dr. Sangita Agarwal had introduced the day's speaker to everyone. Speaker Name: Prof. (Dr.) Tuhin Kanti Biswas, Professor and Head, Department of Kayachikitsa (Medicine) J.B. Roy State Ayurvedic Medical College and Hospital.
Title Talk: Diet and Medicine goes hand in hand.
Talk Abstract: Prof. Dr. Tuhin Kanti Biswas focused on the fact about how diet and medicine go hand in hand and for it he takes up an old proverb which goes like this "When diet is wrong medicine is of no use. When diet is correct medicine is of no need". Respected sir here tried to focus on the fact that how good diet needs for a healthy life.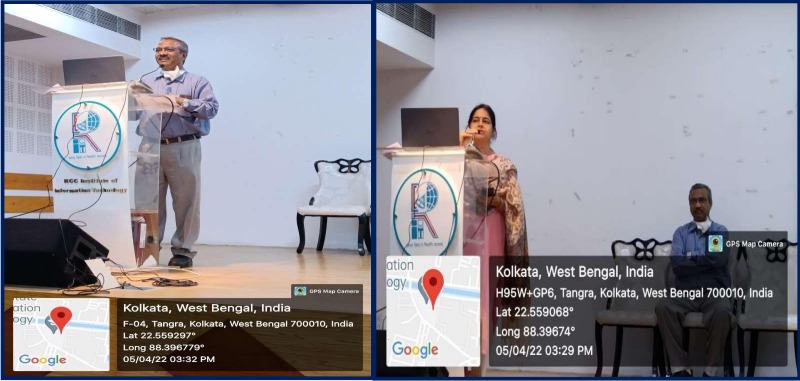 Adding to this we had also arranged for a Health Check Up Camp for the faculty members and staff of the college. Doctors and Nurses of Divine Nursing Home came to the college and checked the Blood Pressure and Blood Sugar of the faculty and staff and also the height and weight and accordingly calculated the BMI.
Date: 6th April,2022
Dr. Tathagata Deb had introduced the day's speaker to the audience.
Speaker Name: Prof. Pampa Debnath, Asst. Professor Dept. Of ECE, RCCIIT
Title Talk: Proper Food and Diet.

Talk Abstract: The talk discussed about the intake of proper food and following a proper diet so as to maintain a proper healthy lifestyle. Ma'am focused on those foods which build immunity in the body and how healthy food and help us to stay safe from various kinds of diseases. She explained about some super foods like Broccoli and about its various good effects on human health, it is also focused why older people need supplements along with their food as because due to age their food intake is lowered due to age and lack of absorption and low fluid intake.
The full two days event is conducted with the joint effort of the faculty members and the NSS volunteers. At the end of the event Dr. Tathagata Deb extends his warm welcome to all the people involved in the event as for without their support we cannot put up a good show.
Outcome of the Event:
From the day's event one would be very much motivated to keep up good health and would
definitely understand its importance in today's world.